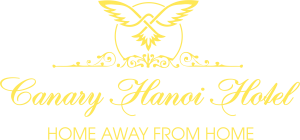 WELCOME TO CANARY HANOI HOTEL
" Home away from home"
CANARY HANOI HOTEL CANARY HANOI HOTEL – Located in the heart of Hanoi ancient city – one of the most favorite tourism destinations in the world, Canary Hanoi Hotel is an ideal destination. It takes you only couples of minute walking from the hotel to admire the center Old Quarter Areas.
Canary Hanoi Hotel is a standard 3-star hotel with unique designs combined between traditions and modernity. The hotel has total of 40 bedrooms fully equipped with modern facilities,01 elevators, 01 restaurants and 01café lounge, souvenir stalls, … Canary Hanoi Hotel Hanoi is a perfect match between the unique style and innovative ideas. Keeping the environment green, clean & beautiful is not only our endeavor but the aim of the whole world.
Coming to the Canary Hanoi Hotel to enjoy the differences and experience our hospitality here. Our young, nice, friendly and professional hotel team will always sincerely welcome you with the best quality services. Choosing Canary Hanoi Hotel for the upcoming holidays or business trips, you will always feel comfortable and cozy as your home.
Centrally located within the business hub of Hanoi, Canary Hanoi Hotel is a mere 30-minute drive from Noi Bai International Airport and within easy reach of many Hanoi's most popular attractions.
Nikko Hotel Hanoi: 0,2km
Noi Bai International Airport: 30 km
Hanoi Railway Station: 0,5km
Giang Vo Central Exhibition: 3,1km
Hoan Kiem Lake: 1,8km
The Temple of literature: 1,8km
Ho Chi Minh Mausoleum, Ho Chi Minh Museum, One Pillar Pagoda: 2,4km
Night Market: 2.2km
At anytime, our friendly staff will always do his utmost to exceed your expectations and make your stay unforgettable.